Priory Class (Y3 - Y6)
Teacher: Mrs Wilson Teaching Assistant: Mrs Story

Autumn Term 2016:
This term the children are going to be studying Earth Matters.
This topic is an excellent introduction to the key aspects of physical Geography that children need to understand and describe in KS2. The children gain a thorough knowledge of the water cycle, coasts and rivers, mountains, volcanoes, earthquakes, climate zones and biomes through applying the knowledge gained from their research in practical tasks such as model making, drama, artwork and dance.
Study the water cycle and the physical geography of coasts and coastal features. Learn about coastal erosion and the impact of the sea on human activity.
It is a perfect topic to be studying since the Y5/Y6 children will be going on their residential to Whitby at the end of the September, so hopefully if their coastal knowledge has improved they will be able to identify with lots of familiar areas. We will be encouraging them to also utilise their seaside art skills with sketches of the forever changing coastline and pencil sketches of shells, particularly observing their texture and shape.
Through studying the Earth's crust we are also hoping to challenge the children to some playdough modelling to illustrate, again, the forever changing dynamics of our active Earth!
Please do keep looking on our website; we will update regularly with more information and photographs of the progress the children are making.
.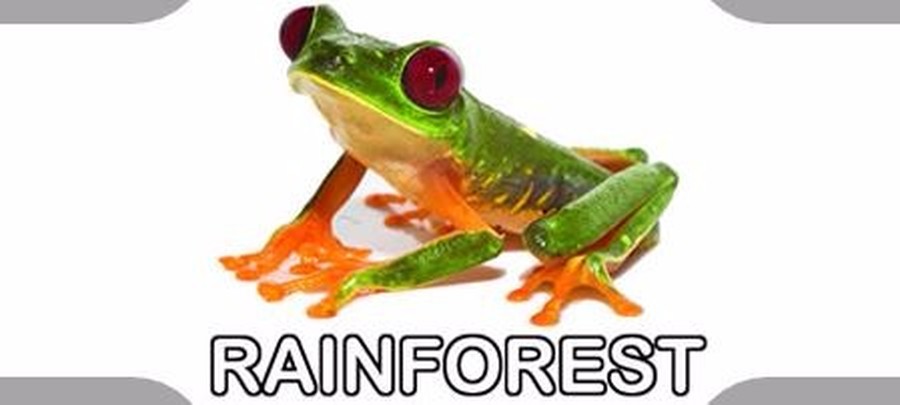 Summer Term 2016:
This term the children are studying Rainforests.
Rainforests are forests characterised by high rainfall and dense forests. There are two types of rainforest: tropical rainforest and temperate rainforest.
Around 40% to 75% of all biotic species are indigenous to the rainforests. It has been estimated that there may be many millions of species of plants, insects and micro-organisms still undiscovered in tropical rainforests. Tropical rainforests have been called the "jewels of the Earth" and the "world's largest pharmacy", because over one quarter of natural medicines have been discovered there. Rainforests are also responsible for 28% of the world's oxygen turnover, sometimes misnamed oxygen production, processing it through photosynthesis from carbon dioxide and consuming it through respiration.
The undergrowth in some areas of a rainforest can be restricted by poor penetration of sunlight to ground level. If the leaf canopy is destroyed or thinned, the ground beneath is soon colonized by a dense, tangled growth of vines, shrubs and small trees, called a jungle. The term jungle is also sometimes applied to tropical rainforests generally.
If you would like to help your child with further study, please take a look at the BBC's Education website on the rainforest by clicking on the link below:
http://www.bbc.co.uk/education/clips/z939jxs
We are also going to be lucky enough to have Zoolab visit our school to allow us to handle the types of animals that live in rainforests. The children will get to go on a journey through the rainforest - with real rainforest animals and with a ranger who really knows the rainforest inside out. It's all about experiencing the drama of the rainforest - from the dark forest floor to the dizzy heights of the emergent layer! Children will learn about plants and get to meet a range of animals from ground-dwelling snails, 'travelling' snakes and canopy-dwelling tree frogs! They'll get to learn all about the layer(s) in which they live, who and what they eat, and all about life in the steamy tropics. And they'll learn about rainforest location, rainfall and weather – and rainforest destruction.
They will be visiting us on Monday 16 May 2016, so watch this space for some photos!
Spring Term 2016:
This term the children are studying the Ancient Egyptian civilisation including topics such as:
The River Nile
The Pharoahs
Egyptians Families
Egyptian Food and Drink
Egyptian Clothing
Egyptian Jobs
Egyptian Hieroglyphics
Egyptian Religion
Pyramids and Tombs
The children presented their work to parents/carers during an Egyptian Exhibition:
Summer Term 2015:
As part of our 'Stone Age to Iron Age' topic for the Summer Term 2015, the children built mini Mesolithic houses:
They learned about Stone Henge and re-constructed it using edible materials...yum yum!
SeWhat Event, North Nottinghamshire Arena, Worksop: Summer Term 2015
This was our sixth year of taking part in the annual SeWhat event, organised by FOYPIB (Focus On Young People In Bassetlaw). The children worked with textiles in our DT lessons and designed their own 'animal print' t-shirts. This was linked to our 'Stone age to Iron Age' topic. The children had the opportunity to show off their finished designs at the SeWhat event at North Notts Arena. This involved working in advance with a choreographer and modelling on the catwalk!
These photos show the early stages of our creativity:
Part of the SeWhat experience involved working with choreographer Jay Pollit, to put together a routine for the catwalk. These photos and recordings show our first session with Jay:
These are some designs from previous years:
Click on each of the numbers below to help you with learning your Times Tables....
This term our topic is all about 'Stone Age to Iron Age'.
Our Timetable - Autumn 2014
*Please note changes may occur from time to time......
School starts

8:45

9:00:9:15

9:15-10:15

10:15-10:35

10:35 – 10:50

10:50-12:00

12:00-1:00

1:00 – 2:00

2:00 – 3:00

3:00 – 3:15

Monday

Assembly

Literacy/

Numeracy

Guided reading

Break

Literacy/

Numeracy

Lunch

PE with Mrs Green

Topic

Class story

Tuesday

Assembly

Literacy/

Numeracy

Guided reading

Break

Literacy/

Numeracy

Lunch

Topic

Class story

Wednesday

Assembly

Literacy/

Numeracy

Guided reading

Break

Literacy/

Numeracy

Lunch

Science

RE/PSHE

Class story

Thursday

Assembly

Literacy/

Numeracy

Guided reading

Break

Literacy/

Numeracy

Lunch

Art/DT

Class story

Friday

9:00 – 9:45

Literacy/ Numeracy

9:45 – 10:35

Literacy/

Numeracy

Break

PE (finish at 11:45)

Lunch

French

Music

Outdoor Activities

Mentions assembly
For pupils:
If you want to revisit some of the things we have learned about so far, follow the links below.......